Reconciliation Guidelines
General Guidance
Reconciliation is the responsibility of each university department that manages one or more university funds.
Each fund should be reconciled monthly.
All financial transactions entered on-line by the department should be reconciled monthly to their internal source document or log.
All financial transactions from all source systems - Human Resources, Procurement, Stores, service operations, billing units and other entities that provide financial data to the General Ledger should be reconciled to supporting documentation.
Supporting documentation, either paper or electronic, should be adequate to support the financial transaction.
Supporting documentation should be maintained in the department.
Fund managers should recognize the transaction information that appears on the university financial reports.
Fund managers have the responsibility for identifying financial problems and resolving errors.
The Fund Exception report should be reviewed periodically to ensure that no one has used your org/fund combination inappropriately.
Workflow should be set up appropriately to ensure that proper approvals occur for your department's financial transactions.
These reconciliation packets are comprised of three components: a narrative, a sample 91, and a sample reconciliation document. Some packets (e.g., AP/PO) may include more than one narrative, 91, or reconciliation document. Others (e.g., Allocations) may not include a reconciliation document, because there is none for that kind of transaction.
At the top of the narrative is a summary table, that tells you how to recognize each type of transaction on the 91, and describes the associated billing cycle. Then the narrative provides key information about how the transaction will appear on the 91, and on the reconciliation document. Finally, it describes how to compare the 91 to the reconciliation document. For your convenience, fields referred to in the narrative are labeled on the sample 91 and reconciliation document.
In some cases, you will want to go beyond simply verifying the data on the 91; you may also want to verify the reconciliation documents (especially billing statements) against your own records. These packets do not discuss that verification.
Transactions in the General Ledger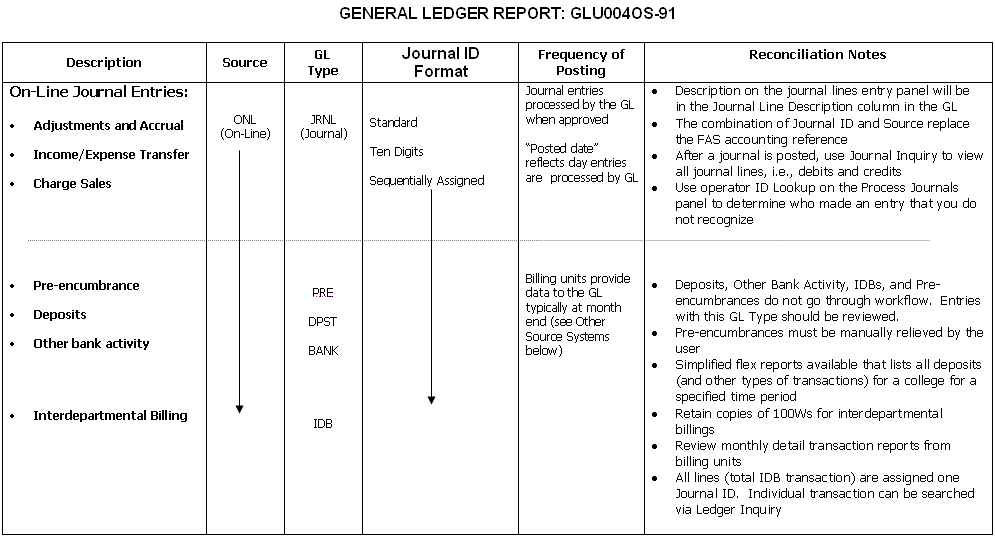 Documenting Financial Transactions in the General Ledger
Millions of financial transactions are processed annually by the university's general ledger. These include journal entries, deposits, procurement activity, personnel appointments and adjustments, etc. In a paper based system, documentation for these transactions followed three basic principles:
A paper-based system requires paper documentation that supports the transaction with the appropriate approvals and final review by the appropriate office that processed the financial transaction.
The requirements of the Ohio Revised Code specific to retention of paper records must be followed.
Additionally, documentation has always been associated with internal controls and level of risk associated with each. From this perspective, required documentation is not the same for all transactions. For example, an adjustment to an expense between accounts within a department is not as critical from the perspective of internal controls and risk as processing additional pay in the human resources system.
With the advent of the new general ledger, two of these basic principles have been revised to reflect an electronic environment.
In an electronic system review and approvals for many entries are processed and stored electronically. 
According to Ohio Revised Code, records that are created in an electronic environment can be retained electronically. 
The third basic principle of aligning required documentation with internal controls and level of risk is true regardless of the medium used to process the transaction. Required documentation for transactions, therefore, depends closely on the level of risk associated with them.
Documenting general ledger entries including adjustments, transfers, and deposits, human resources payroll related entries, procurement activity, and entries from the university's source systems such as UNITS, Bookstores, Stores, etc. are based on the following considerations. 
Minimal documentation is required when:
There are system controls that minimize errors. Examples are transactions that have workflow associated with them. These transactions are reviewed and approved by someone other than the initiator before it posts to the general ledger.
The transactions can be fully documented in the system itself. Comments describing the transaction and its purpose as well as the operator ID of the person who initiated the transaction are available in the on-line system. The transaction can be audited from the system itself.
Increased documentation is required when:
The transaction is for a large dollar amount. 
The transaction is part of a legally binding contract. 
The transaction is created via the Procurement Card. 
The transaction is created using an Internal Order form or 100W (there is no upper dollar limit for transactions that use the 100W) 
The transaction in part of the procurement process. 
The transaction pertains to personnel actions. 
Given these considerations and in an effort to assist users in determining the level of documentation for each type of transaction processed by the general ledger, the Office of the Controller has developed a matrix which includes transactions by type, level of security and risk and appropriate documentation. These guidelines should be used in your record-keeping process.
Transaction Type
Description and Level of Security
Documentation
(Currently record retention is four years as required by University Archives.)
Journal Entries and Adjustments

Most journal entries correct prior month's activity. 
Department personnel who have security access to the general ledger make entries. 
Journal entries workflow and must be approved on-line before transactions enter the general ledger. 
Transactions have an assigned operator ID for security purposes.

Document the transaction using the comments box in the header panel. 
Comments should be extensive, i.e., describe the transaction, its purpose and who requested it. 
Journal entries can be viewed on line. 
Units with numerous journal entries can maintain a transactions log with journal IDs and dates. 
Additional documentation is not required.

Budget and Fund Transfers

Department personnel who have security access to the system make entries.
Transactions workflow to the colleges for approval.
Fund transfers additionally workflow to Resource Planning.
Transactions have an assigned operator ID.

Use the comments box on the header panel to make extensive comments, i.e., describe the transaction, its purpose and who requested it.
Additional documentation is not required.

Deposits and Other Bank Activity

Transactions do not workflow.
Few on-line edits such as the use of org and fund. 
Higher risk transactions

Maintain copies of deposit records and Journal Entry Detail report from the General Ledger system. 
Verify, on a monthly basis that deposits are accounted for in the general ledger. 
Follow the Treasurer's policies concerning supporting documentation and procedures for deposits.

Interdepartmental Billings - Customer purchases from Stores, Units, Bookstores, etc.

Interdepartmental billings do not workflow. 
Transactions are difficult to track via Journal ID because there can be many lines per journal.
Internal orders are not encumbered. 
Internal orders are expensed in the general ledger in the month they are submitted by the billing unit.
Internal orders have no centrally imposed upper dollar limit.

Retain copies of 100Ws. 
Retain copies of counter receipts from Stores. 
Retain copies of e-mails or other requests to purchase items, especially equipment or other higher cost items. 
Monthly 100Ws should match monthly billing unit statements and general ledger. 
If 100W number is not provided by billing unit, verify charges by Source, journal line description and posted date.

Purchase Orders and Change Orders

Entries workflow. 
Approvals by delegated buyers and/or purchasing agent before entry into the GL.

Use the comments box on the PO to indicate org, fund and account. These Chartfield segments are not included as part of the PO documents themselves. 
If org. fund and account are not included in the comments box, retain a copy of the PO, with this information added, in department files. 
Packing slips and other delivery information should be retained to verify receipt of goods. 
Bid documents should be retained. 
Purchasing requires documentation of contracts, vendor responses and related correspondence.

Invoices

Original invoice goes to Accounts Payable. 
Copies are sent to departments from AP, indicating the assigned voucher number. 
Invoices are entered manually into the GL by Accounts Payable.

Retain copies of invoices. 
Match invoices to packing slips or other evidence of receipt.

Procurement Card

Each card has a pre-assigned number. 
Individual cardholders make purchases. 
Cardholders provide receipts for all transactions. 
Transaction data comes from the bank. 
Transactions are to be reassigned by departments from the clearing account to the correct account(s) on a monthly basis.

Retain credit card receipts and any matching itemized cash register receipts. 
Retain monthly bank statement.

Payment Request

On-line or paper through Accounts Payable. 
Appropriate authorization required by AP. 
Original receipts are sent to and retained by Accounts Payable.

Retain copy of payment request and any supporting documentation. 
Copies of receipts are not required.

Travel

Most travel orders are processed on-line directly to the university's Travel Office. 
Original request and reimbursements require appropriate approval. 
Original receipts are sent to and retained by the Travel Office.

Retain copy of travel reimbursement. 
Copies of receipts are not required.

UNITS

There is no system security. 
Departments responsible for internal controls.

Maintain a log or other documentation on personal calls, especially long-distance that require reimbursement to the university.

Human Resources

Security is org based. 
Limited workflow before payroll transaction is processed. 
Positions are approved via workflow before posting. 
Hiring workflows but is notification only, not approval. 
Limited ability to document purpose and reason for transaction on-line. 
Human Resources controls retroactive appointment adjustments.

Retain the following:

Copy of position descriptions.
Hire data worksheet for each employee.
Letters of offer or letters or e-mails with other salary notification; include salary and effective date.
Letters or e-mails for non-regular payroll activities i.e., supplemental pay, bonuses, special awards, additional pay.
Approved salary and labor distribution worksheets for continuing employees. 
Time sheets for hourly employees, signed by a supervisor who has direct knowledge of the work performed.
Approved documentation for overtime signed by the appropriate supervisor who must verify hours worked.
Reviewed and approved Action Audit Report (BRIO) that shows changes in job data activity for all employees. 
Reviewed and approved monthly and biweekly check distribution lists.
The university provides monthly detail financial transaction reports, GLUOO4OS-91, which should be used for reconciliation to department records. Retain copies of the documentation along with the detail reports with reconciliation approved by supervisor signature.